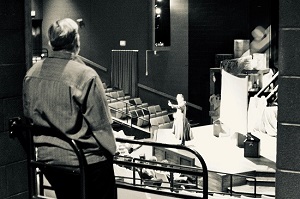 A Rumination from my dramaturgy of Steven Dietz's This Random World directed by David Lee-Painter.

I find myself thinking about landscape memories….

One of the settings in This Random World is A Not-Great Diner. It is where Claire and Gary break up:
CLAIRE. We always joked that people should break up at shitty places they were never gonna want to visit again. Because of the memories… The way that goodbyes… The way that endings just… stick to a place…
The role landscape plays in memory has been examined from a number of perspectives (Harrison 2004, Hoelscher and Alderman 2004, Jedlowski 2001, Schäuble 2011, Schramm 2001). Landscapes are more than memory containers: they shape, and are shaped by, what happens upon them (Schramm 2001:6). The Elizabethan stage at the Oregon Shakespeare Festival is built on an old Chautauqua site. It attests to generations of community, education, and entertainment. Whenever I'm there I'm reminded of when I worked for the Festival, the people who preceded me, and those who are yet to be there.
I imagine it's a given that we always have a relationship with landscape but there seems to be some places that resonate more deeply with memory. Janet Donohoe's Remembering Places discusses how place can be more than simply the spot where something happened. It can be an active participant in that caught moment. Where you stood, what it looked, smelled, tasted like when it happened. In some instances, you can stand in the place and feel the memory that is held there. "Places serve… as vibrant, living aspects of memory, tradition, history, and meaning. ….[They] write themselves upon memory just as memory writes itself upon place."
But not every memory stays with a place. Ed Casey in the same text: "a given place will invite certain memories while discouraging others. The fact is that we can't attach just any memories to a particular place . . . . only certain kinds of memory, will be pertinent."
Donohoe again: "Other places are significant for a singular event. These places are less familiar, but still imbued with memory, such as the place where we got married, where one was mugged, or where a parent died. Stepping into any of these places after years of absence, whether a habituated place or a place of a significant event, creates a rush of memories to which the place itself is connected. They are memories that only return due to the sense of the place, the smell, the feel of the air, and the very place itself."
CLAIRE. It's kind of terrible. This place. It is really one of the worst places to eat on earth that I know of.
TIM. Why did you want to come here?
CLAIRE. I wanted to change it. Change my memories of it. I thought maybe we could do that.
Some landscapes' memory will fade or they will be purified. I've friends who sage new residences to free the past that may still cling to it. And sadly, there are landscapes that can never be cleansed. After the shooting at Sandy Hook Elementary, the school was razed and a new one built on the site.
Donohoe, Janet. Remembering Places: A Phenomenological Study of the Relationship between Memory and Place.
Harrison, Simon. " Forgetful and Memorious." Social Anthropology 12: 135–151.
Hoelscher, Steven and Derek H. Alderman. "Memory and Place: Geographies of a Critical Relationship." Social & Cultural Geography 5(3).
Jedlowski, Paolo. "Memory and Sociology Themes and Issues." TIME & SOCIETY SAGE 10(1): 29-44 .
Schäuble, Michaela. "How History Takes Place: Sacralized Landscapes in the Croatian-Bosnian Border Region." History & Memory 23(1):23-61.
Katharina Schramm. Introduction: Landscapes of Violence: Memory and Sacred Space History & Memory, 23(1):5-22.