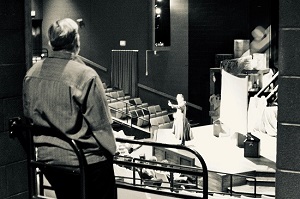 A Rumination from my dramaturgy of Steven Dietz's This Random World directed by David Lee-Painter.

I find myself thinking about control and risk….



I have a tendency to read multiple books at a time. The coffee table is always loaded down with homework, play research, archival information, the latest papers and plays in progress, and whatever fun-stuff I'm engaged in.
Beyond being a squirrel brain and hopping around to different subjects and stories, I find it prompts cross-pollination of ideas. So! I have been reading Sheryl Paul's The Wisdom of Anxiety: How Worry and Intrusive Thoughts Are Gifts to Help You Heal.
The current chapter is on intrusive thoughts and how they function to bring metaphorical messages from the subconscious. The Mayo Clinic website helpfully defines intrusive thought as "an unwelcome involuntary thought, image, or unpleasant idea that may become an obsession, is upsetting or distressing, and can feel difficult to manage or eliminate."
Paul writes:
Intrusive thoughts cover over many core needs and feelings, but at the root is the need for certainty. As our culture fails to guide us to develop an acceptance of the changeable reality that defines our existence, we have a very hard time accepting uncertainty, which is another way of saying that we have a hard time accepting death in all forms. We resist grieving the emotional deaths that occur when we transition to new places in life….We're not mentored on how to live life fully, which means feeling all our feelings. And when we don't live life fully, we actually fear it, which then creates a fear of death.
The question of how to live life fully is one of the dominant themes for me in This Random World. So many of the characters are wrangling with different sections of this idea. Beth meticulously plans ahead even making arrangements for her death and funeral services—which people are encouraged to do—but she goes so far as to investigate when she probably WILL, die statistically speaking, and plans alternative arrangements based on season and availability of resources. She writes her own obituary and admonishes her brother: "Take control of your death, Tim Ward. Or somebody else will."
Controlling your death is a neat flip on Dietz's part. Beth looks to control her death by controlling her life. Which is another theme I find in TRW, issues of control. The characters work to control life, conversations, identity—how the world perceives them. And in the end, there is very little we can control which returns me to Paul:
Living with uncertainty. We simply don't like it. We want definitive answers. We want definable goals. We are intrinsically wired to gravitate toward a need for control and a subsequent attempt to create the illusion of control, ….[and not to] connect to the transitory flow of life.
Scottie's conversations reflect these ideas. She finds herself reflecting on her need for control, certainty, and the tedium all of that can bring about. She longs to have indulged more in the risk-taking of not knowing. Her doctor, one culturally assumed to be an expert on life and death, is unsure of how long Scottie has to live. She likes that unsurety in him and his willingness to admit it. She wishes she had been that way more often. It considers the idea that while confidence is a desirable strength perhaps we take it too far or misapply it. Rather then using it for risk avoidance we should use it to help meet vulnerability and welcome it.
The fear-based self is terrified of risk, terrified of anything that touches into vulnerability, it creates elaborate and convincing reasons why you need to walk away…. This creates an illusion of control…. In other words, the question to ask yourself is, "Is it more important for me to remain attached to the illusion of control or to learn about what it means to be loving?" If you want to learn about what it means to be loving to yourself and others, you have to be willing to let go of control.
Claire and Gary are at a point in their relationship where they choose to part. Each seeks protection temporally, Gary plans ahead. He'd planned a trip to Nepal for years and intended to marry Claire after one last big, solo adventure. Knowing and controlling the future is his way of minimizing risk to himself. He chides Claire for living in the past with her painful nostalgias.
Her teenage romance didn't end happily but she knows what it was and how it turned out. She also controls the memories of those days and can focus on its idyllic nature and the hopes and dreams they had tendered. There are only fleeting moments where any of the characters are fully in the present, living and exposed to the moment as it happens. Those moments in TRW are more frequently only planned for or reflected on. Few are played out before us. Rather they are refracted through a character's lens of seeing. The character decided how to interpret and control what the events mean and show that to the audience.
And in the end, Scottie discovers that she has missed the sunrise—and every sunrise is different—she wonders what else she has missed.
It's a terrifying choice, no doubt. It's a choice that flies in the face of every illusion of safety that you've spent a lifetime constructing…. The truth is that there is so little we can control. We make plans because we want to know what will happen in the next hour, but the unknowable and mysterious force of LIFE [sic] could subvert your plans in an instant. The only freedom is to make friends with not knowing.