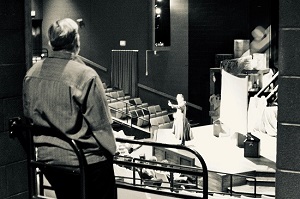 Riffing off Sarah Ruhl, my posts on dramaturgy are not necessarily faithful descriptions of my process but rather views of certain aspects of it from just to the left of the experience. 

After The Three Keys of Captain Hellfire opened my director, David Lee-Painter (DLP) asked if I would dramaturg his next project, This Random World by Steven Dietz in the fall. The idea of researching someone else's play was vaguely terrifying. I knew nothing about how to do it. In the past, I would've fled. This time I said, "Yes."
So it was that I began learning dramaturgy and researching The Clean House.
One of the fun parts of researching Ruhl's The Clean House is that I got to bust out a couple of my anthropology books that I haven't touched since grad school. On this post I wanted to share some of Mary Douglas' text Purity & Danger which uses beliefs on purity to compare different religions.
For her purposes, Douglas defines dirt:
If we can abstract pathogenicity and hygiene from our notion of dirt, we are left with the old definition of dirt as matter out of place. ….It implies two conditions: a set of ordered relations and a contravention of that order. Dirt then, is never a unique, isolated event. Where there is dirt there is system. Dirt is the by-product of systematic ordering and classification of matter, in so far as ordering involved rejecting inappropriate elements….[For example, s]hoes are not dirty in themselves, but it is dirty to place them on the dining table.
Douglas continues:
"There is no such thing as absolute dirt: it exists in the eye of the beholder….Dirt offends against order. Eliminating it is not a negative movement, but a positive effort to organize the environment."
These ideas are reflected in The Clean House where Lane expects order. Activities within her home must follow a routine or a system. Virginia, Lane's sister, see cleaning (organizing the environment) as progress.
Beliefs about pollution are used within societies to influence behavior through social pressure. These implied perils are intended to keep would-be offenders within accepted norms of behavior (Douglas). To step outside of these boundaries causes the transgressor to enter a transitional state.
"Danger lies in transitional states, simply because transition is neither one state nor the next, it is undefinable. ….The theme of death and rebirth [transitional states], of course, has other symbolic functions: the initiates die to their old life and are reborn anew (Douglas)."
Transitional phases for Matilde are seen when she is mourning and the scene of her birth. For her mother when she dies. For Ana, her surgery—a liminal state where you are neither living nor dead—and then when Ana dies. Lane's old life dies and a new one is born.
Cleaning is also a method of control.
It's not uncommon for people in transition to be quarantined, shunned or marginalized (Douglas). Marginalized people are also outcasts who sometimes live near those who have banished them. Matilde is an immigrant, a lower-class worker, and speaks a language none but Ana understands. Ana is also in transition and marginalized at first for breaking up Lane's marriage and later during her struggle with cancer until the other women readmit her into society.
In the second act, cleaning becomes cleansing. More juxtaposition abounds here. The cleansing needed for Lane's ordered and sterile world requires that all become dirty. The ripples of her husband's affair into her life rain down as apple cores. Her sister physically makes a mess in the living room during an argument. And when Ana's cancer returns, her polluted body is brought into Lane's home. It is there Ana prepares to end her transitional state and, in the process, cleanses the other women. In a neat reverse, after Ana clutters their lives with the messiness of being alive, they clean her body which is now out of its transitional state (Al-Shamma, Heller, Schmidt).
From clean to messy to cleanse, the women learn "to accept the chance collisions of life, the pull of desire, and the inevitability of death (Heller)."
Lines from an early poem of Ruhl's called "Advice from a Father to His Daughters":

But have a good tantrum once in a while –
throw a bowl of olives against the wall.
Then conjure grace and drink plenty of tea"
Both the play and the poem recognize that a mess is a part of the process of confronting our deep-seated fears of disorder. Something deeper is at work here as well, as the play's conclusion reveals: a cleansing mess is a step on the path to letting go of the world more completely (Heller).
Al-Shamma, James Zuheir, "Grief and Whimsy in the Plays of Sarah Ruhl," dissertation, UC-Santa Barbara, 2008.
Heller, Jennifer, "To Follow Pleasure's Sway: Atomism in Sarah Ruhl's The Clean House," Modern Drama, Volume 60, Number 4, Winter 2017.
Schmidt, Heidi, "Sarah Ruhl's Women: Gender, Representation And Subversion In The Clean House, Eurydice And In The Next Room, Or The Vibrator Play," dissertation, University of Missouri-Columbia, 2010.