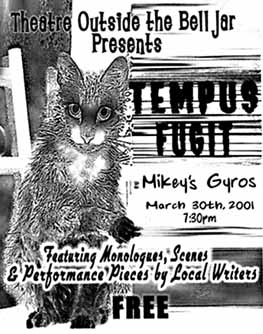 by Dona Black, Ariana Burns, & Tim Waterman
I think Tempus Fugit was the closest I've come to writing a 10-minute play thus far. It was the opener for a Theatre Outside the Belljar show. I wrote it with two wonderful friends and still like it. It was a part of the "I got this place in my head that ain't right without you" series that I was writing back then. Below is a snippet.
EMCEE
Ladies and Gentlemen, this is a performance piece. If you derive any pleasure from this piece, it is strictly coincidental. This is art, and as such, should be view by the audience with the same appropriate gravity as any beleaguered granting agency. This piece, in triplicate, has been sent to our advisory board for review. A moment please, I can't work without a cigarette hangin' out of my mouth. . .Art is.
TWO
Art is a sedative for the obsessive compulsive.
EMCEE
It consumes.
ONE
It penetrates.
TWO
Hurry!
EMCEE
Admit One.
TWO
Are you an Enemy of the Future?
EMCEE
Art rips your heart out.
ONE
But you think you did it to yourself.