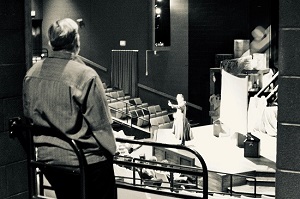 A Rumination from my dramaturgy of Steven Dietz's This Random World directed by David Lee-Painter (DLP).

While the company was hard at work, I had to leave for two weeks. And waiting in the Phoenix airport to return home some connections occured to me…
The University of Idaho is fortunate to have a unique and long-lived relationship with the Oregon Shakespeare Festival. Through the Rex Rabold Fellowship, a UI theatre graduate is selected to work with the talented and dedicated people at the Festival.
Shortly after I graduated, the Fellowship was established (I initially thought I was still an undergrad but I just hadn't left town yet). This feat was accomplished largely in part to the efforts of acting faculty member Forrest Sears.
Mr. Sears has graciously agreed to come out of retirement and join the company of This Random World–that group I had left behind to go on vacation–only I don't know how to go on vacation so I was driving around researching a play, conducting interviews for my oral history project, and going to museums. Which led to me sitting in an airport nine days later, thinking about my time as a theatre undergrad, Mr. Sears, This Random World, and connections.
I scribbled down my thoughts and with DLP's permission–he is often indulgent with my whims–I read it to the company before our final run-thru.
In the mid-1970s, Mr. Sears had a promising student named Rex Rabold.

Rex went on to do many things but most notably he became a beloved actor at the Oregon Shakespeare Festival.

Not long after Rex's death, I walked into the U-Hut—which was my Shoup Hall—to discover it was buzzing.

An important person was there.

People were fussing over my classmate, actor Mike Behrens.

Something important was happening.

If you've tried to get two big things together to do something—even if it is a beneficial thing—you will know it is hard.

Theatre was trying to get the University and Oregon Shake to work together.

It was hard. But it happened.

Mr. Sears was instrumental in making it happen.

And the result was that Mike Behrens was to be the first Rex Rabold Fellow.

Daniel Haley was the 15th.

Whitney Holland will be the 27th.

Last week I was in the desert with Bruce Brockman, a former theatre chair and he reminded me that Mr. Sears had done this.

Mr. Sears taught Rex, taught me, mentored DLP, and created the Rex Rabold Fellowship.

DLP taught Haley and all of you. Haley went to the Shake and is back, sharing what he has learned.

Another UI theatre classmate told me that several years ago when she was directing in Wyoming, a faculty member approached her and said, "You talk about theatre the way I talk about theatre. Where are you from?"

And when she told him, he asked: "Do you know DLP?"

I wanted to mention these connections to you because before now I never felt grounded in UI theatre's past and that I think it's important to have a heritage, to be connected.