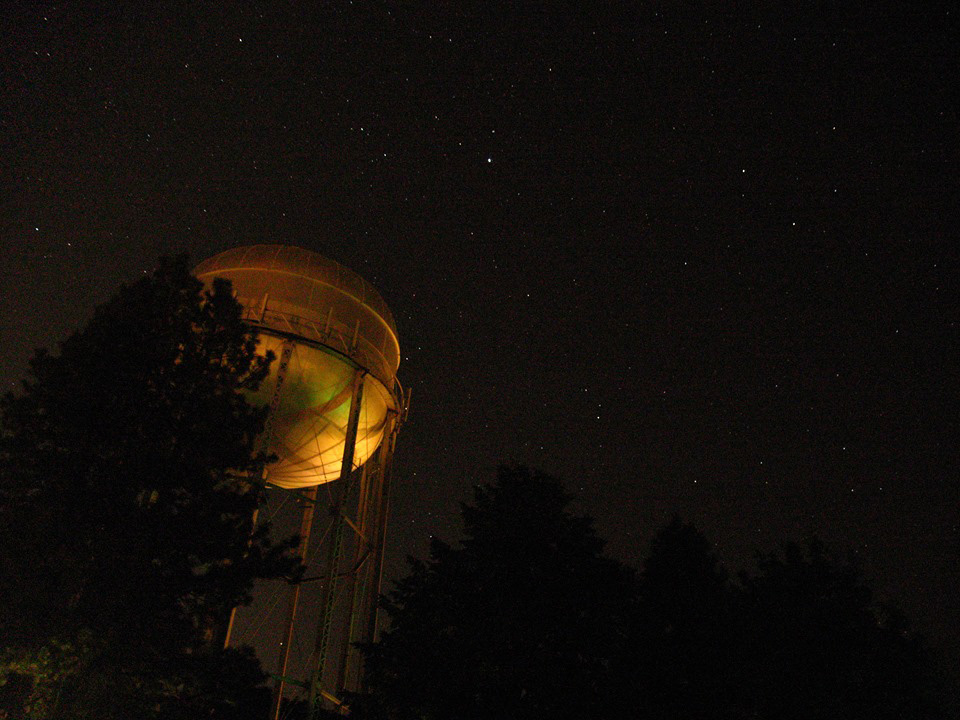 Happy Mess by Ian Paul Messersmith
directed by Sarah Campbell
dramaturgy by Ariana Burns
packet prepared Summer 2020
(Moscow Idaho's Rotary Park water tower photo by Elaina Pierson)
Happy Mess is in development at the University of Idaho Theatre Arts Department through the Fall 2020 semester.
TOPICS
I was rather surprised to discover that most of my knowledge of alcoholism and alcoholics comes from Alcoholics Anonymous (AA). That a person had to hit "rock bottom" before they would look for help; that alcoholism was a disease. AA was the group putting out the pamphlets that got these ideas into the mainstream consciousness.
Since its beginnings in 1935, AA filled a void in treatment for heavy drinkers. It taught that alcoholism was a disease which the American Medical Association wouldn't attest to until 1956. At that time, AMA setup detox wards but still there was no treatment. Most recently the Diagnostic and Statistical Manual of Mental Disorders (DSM) classified it as a spectrum under the new term "alcohol use disorder (AUD)" (Glaser). The National Institute on Alcohol Abuse and Alcoholism describes AUD as
"a chronic relapsing brain disorder characterized by an impaired ability to stop or control alcohol use despite adverse social, occupational, or health consequences."
Approximately 15 million people in the United States have it (NIAAA). Some of a person's vulnerability to AUD is also hereditary (Glaser).
Over the years little in AA's treatment of AUD has changed even though there are medicines available now and cognitive therapies. It relies on abstinence, group support, and faith in a higher being. Some participants only see partial success and others leave dissatisfied (Glaser).
In AA's beginnings, there were no studies done for its efficacy or the accuracy of its pamphlets. AA was doing its best with no resources available. It taught alcoholism was a disease with an unavoidable fate. Glaser writing for The Atlantic found research to the contrary that some drinkers were not doomed:
… a federally funded survey called the National Epidemiological Survey on Alcohol and Related Conditions show[ed] that nearly one-fifth of those who have had alcohol dependence go on to drink at low-risk levels with no symptoms of abuse. And a recent survey of nearly 140,000 adults by the Centers for Disease Control and Prevention found that nine out of 10 heavy drinkers are not dependent on alcohol and, with the help of a medical professional's brief intervention, can change unhealthy habits (Glaser).
It is difficult to track AA's effectiveness since it keeps no records (a key part of the name Alcoholics Anonymous) but various studies have claimed it has anywhere from a 5-33% success rate (Glaser). A 2014 survey that AA conducted on itself found that of the entire membership
27% spent less than a year sober.
24% spent 1-5 years
13% spent 6-10 years
14% spent 11-20 years
22% spent 20 or more years sober
Also 62% of its member were men and 89% were white (membership survey)
When it was created in the 1930s, AA was designed for chronic, heavy drinkers. Now it is used by a wider range of people—Some that have been sent there by court order (Glaser). So while being intended for a very discrete part of the population, its abstinence program is now being used at large.
In Happy Mess, Devon joins AA to deal with her drinking problem. Through it she has seen success in bringing her drinking under control.
Studies calculate substance abuse in the gay and transgender populations to be around 20 -30%. This contrasts with about 5-10% percent of the general population (Hunt, Murray). Researchers believe alcohol is selected as a maladaptive coping mechanism to deal with stress from discrimination and control anxiety (Murray, Hunt, Lewis).
Another challenge is that gay and lesbian culture in the U.S. developed a practice of meeting in bars. Often, it was the only safe place to meet. After quitting drinking, older gays and lesbians find it difficult to create safe networks of friends that do not revolve around drink. This, in turn, makes it harder to to control alcohol abuse (Rowan).
An advantage to AA is it helps create networks away from alcohol. AA is open to gays and lesbians and has groups for them if members don't wish to attend a general meeting. The pamphlet for the "Gay/Lesbian Alcoholic" is no different from the general one except the prologue has a different set of endorsements.
…In most respects we are no different from other A.A. groups. We no longer have to feel unique simply because we are gay. We can now concentrate on the similarities between us and other alcoholics rather than the differences.

prologue, A.A. and the Gay/Lesbian Alcoholic
Alcoholics Anonymous. "A.A. and the Gay/Lesbian Alcoholic." 1989.
Alcoholics Anonymous. "2014 Membership Survey." https://www.aa.org/assets/en_US/p-48_membershipsurvey.pdf. Last Accessed: August 20, 2020.
Glaser, Gabrielle. "The Irrationality of Alcoholics Anonymous. "The Atlantic." April, 2015. https://www.theatlantic.com/magazine/archive/2015/04/the-irrationality-of-alcoholics-anonymous/386255/ Last Accessed: August 20, 2020.
Hunt, Jerome. "Why the Gay and Transgender Population Experiences Higher Rates of Substance Use Many Use to Cope with Discrimination and Prejudice" Center for American Progress. March 9, 2012 https://www.americanprogress.org/issues/lgbtq-rights/reports/2012/03/09/11228/why-the-gay-and-transgender-population-experiences-higher-rates-of-substance-use/
Lewis, Robin J., Tyler B. Mason, Barbara A. Winstead, Melissa Gaskins, and Lance B. Irons. "Pathways to Hazardous Drinking Among Racially and Socioeconomically Diverse Lesbian Women: Sexual Minority Stress, Rumination, Social Isolation, and Drinking to Cope." Psychology of Women Quarterly. 2016, Vol. 40(4). pp 564-581. https://www.ncbi.nlm.nih.gov/pmc/articles/PMC5270712/. Last Accessed: August 20, 2020.
Murray, Krystina. "The LGBTQ community is more impacted by alcoholism than most. Luckily, awareness is growing, as is the number of LGBTQ-specific treatment programs." April 28, 2020 https://www.alcoholrehabguide.org/resources/lgbtq-alcoholism/
National Institute on Alcohol Abuse and Alcoholism www.niaaa.nih.gov/alcohol-health/overview-alcohol-consumption/alcohol-use-disorders. Last Accessed: August 21, 2020.
Rowan, Noell L. "Older Lesbian Adults and Alcoholism: A Case Study for Practitioners." Journal of Aging Life Care. Spring 2012 https://www.aginglifecarejournal.org/older-lesbian-adults-and-alcoholism-a-case-study-for-practitioners/ Last accessed Aug 13, 2020.