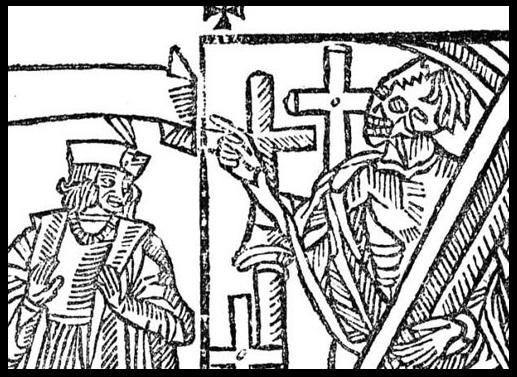 Everybody by Branden Jacobs-Jenkins
directed by KT Turner
dramaturgy by Ariana Burns
(Section of frontispiece from edition of Everyman published by John Skot c. 1530.)
Amongst his many awards, Branden Jacobs-Jenkins has received the Paula Vogel Award 2011, the Steinberg Playwriting Award 2015, MacArthur Fellow 2016, Windham-Campbell Literature Prize (Drama) at Yale 2016, Critics' Circle Theatre Award Most Promising Playwright Gloria & An Octoroon 2017, USA & John Simon Guggenheim Memorial Foundation Fellowships 2020, and the inaugural Tennessee Williams award.
He holds an MA in Performance Studies from NYU and is also a graduate of the Lila Acheson Wallace American Playwrights Program at the Juilliard School.
Plays
Neighbors 2010
War 2014
Appropriate 2014—Obie Award for Best New American Play with An Octoroon
An Octoroon 2014
Gloria 2015—Pulitzer Prize for Drama finalist 2016
Everybody 2017—Pulitzer Prize for Drama finalist 2018
Girls 2019
Quotes
He said he hopes his students will use the form to provoke thought: "There is an anti-intellectualism in the theater right now. There's room for more challenging work that's talking to the moment, which is filled with so much unease" (Souccar).
"I'm not interested in a linear tale of divorce in the black community," he says. "My dream audience member would turn to the audience member next to them and say, 'What just happened to me?'" (Marks).
On Everybody
For Jacobs-Jenkins, there's little distinction between adapting a play and creating one—primarily because he can't resist commenting on what he's adapting. "For me, adaptation is about challenging the original play. I'm not translating it for an audience so much as actually trying to explore what this piece meant in its context and what it might mean now. That's my process, starting there and unpacking that way" (Haun).
Everybody is dedicated to the memory of James Houghton the founder of the Signature Theatre and director of the drama division at Julliard from 2006 until his death. Jacobs-Jenkins is a member of Signature Theatre Residency Five program joining in 2013 and an alum of Julliard.
Video
---
Haun, Harry. " Why You Need to Know the Name Branden Jacobs-Jenkins." Playbill. Feb. 27, 2017. www.playbill.com/article/why-you-need-to-know-the-name-branden-jacobs-jenkins. Last Accessed: Jan 17, 2021.
Marks, Peter. "A playwright who's at ease with causing discomfort." Washingtonpost.com, 24 June 2016. Gale Academic OneFile, link.gale.com/apps/doc/A456073426/AONE. Last Accessed: Jan 16, 2021.
Souccar, Miriam Kreinin. "40 UNDER 40; Branden Jacobs-Jenkins, 32." Crain's New York Business, vol. 33, no. 13, 27 Mar. 2017, p. 0015. Gale General One File, link.gale.com/apps/doc/A487852264. Last Accessed Jan 16, 2021.