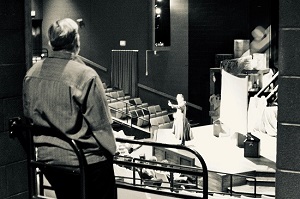 This week rehearsals began for This Random World (TRW) by Steven Dietz. FINALLY! It's my first time in rehearsals as a dramaturg. For my previous project I only assembled a research packet for the director, David Lee-Painter (DLP).

DLP is also directing TRW. The packet's done. I wrote it up last summer for the design team to have. DLP asked me to make a few remarks at the first rehearsal. Below are some excerpts.
---
One of the things that immediately struck me about Dietz's script is how much we miss when we're narrowly focused on our own lives. We can be oblivious to the roles we play in others' lives. It only takes a slight shift of focus to bring different things to light or see old things as if new.
The idea of randomness also resonated with me. We, as creatures on this planet, are trying to control our world and that belief of control is very important. It can humbling to discover how much is really just randomness or dumb luck at work.
The idea of random chance brings me to the title of Dietz's play: This Random World The Myth of Serendipity. When I first started researching TRW, I thought the second title referred to serendipity as a myth. My friend, Rob Snyder reminded me that myth is actually a truth manifested as a story. I've come to believe Dietz is using the phrase to comment on the main title. This Random World is the truthful story of happy chance. Later in the play a pair of the characters go the Forest Where Lies Are Revealed. When lies are revealed, one gets to the truth.
Dietz has crafted a compelling story and at the same time has dismantled it by denying scenes where we expect certain characters to meet. This puts us in & out of the story at the same time—like Schrödinger's cat. It permits us to study the world he has created and juxtapose it with our own.
As Dietz once wrote that theatre's most profound gifts are participation and reflection. This Random World gives us plenty of opportunities to do that.